The Seventh edition (2009) of the World Guide to Covered Bridges is a long overdue update to the 1989 Guide.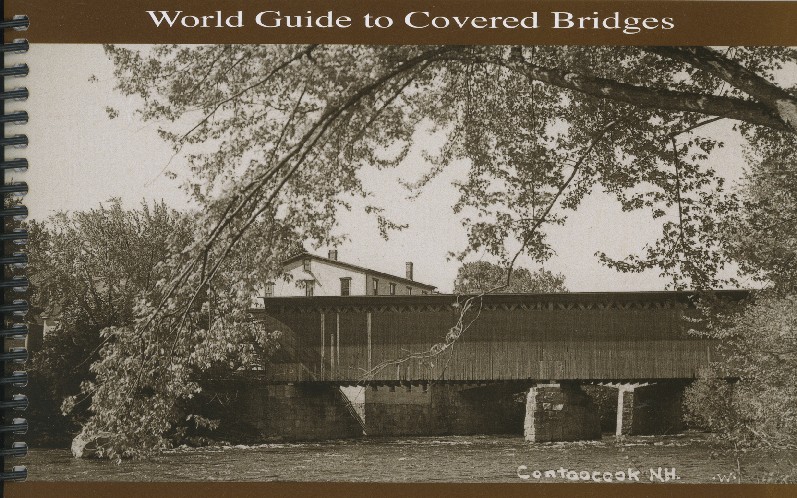 Copies are available for $10 each plus a shipping charge of $5.95 to US addresses. Copies can be ordered on-line from the Books for Sale page or print an order form to mail with your check or money order.
A PDF file containing updates to the World Guide since its publication in 2009 is available.
See a sample page from the current World Guide. Some changes from previous editions that have been incorporated include:
Removing the directions from a restrictive column format and placing them under the other statistical information.
Expanding the directions to remove most abbreviations making them easier to read.
Adding the name of the state/province to the upper right and left hand corners for ease in finding each state while flipping through the pages.
Updating foreign entries to account for changes to country names.
Addition of GPS coordinates for nearly all US and Canadian bridges along with a few foreign ones if the data was available.
Formatting has been applied to each US and Canadian bridge to indicate placement in one of four categories. This will aid readers who prefer to focus their attention on those types of structures. These are only working definitions and still subject to refinement. Feel free to offer your thoughts on the categories.

Structures built using traditional designs are indicated with bold type. These are primarily the historic structures, although it also includes replacements for those structures that were built using the traditional designs.
American bridges which are included on the National Register of Historic Places are noted by "(NR)" at the end of the directions.
Smaller structures, typically for private use, built with authentic truss designs are shown in normal print. Examples of these would be bridges built for driveways or in parks.
Covered roadway structures using non-traditional or modern designs are indicated by italic print. Examples of these would be the two new bridges in Union County Ohio or the Smith Millennium Bridge in Plymouth, NH.
Curious about the History of the World Guide Numbering System?