For 2020, the NSPCB has produced a calendar focusing on the bridge builders with existing examples of their work.
Each month of the 8½" x 11" wall calendar features a current and historic photo of the bridge plus photo of the builder if available. Captions include brief biographical information about the builder.
Order yours today! $15 by mail to U.S. and Canadian addresses or $10 at our meetings and events.
Use the "Add to Cart" button below to pay by PayPal or send a check or money order made out to NSPCB to Jennifer Caswell, 535 Second NH Tpke, Hillsboro, NH 03244.
California - Galen Clark (1814-1910) - Wawona Bridge (World Guide #05-22-01) - Built 1868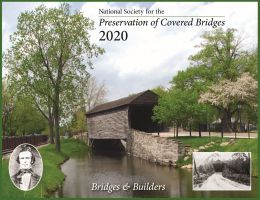 Illinois - Jacob Allaman (1811-1868) - Allaman or Eames Bridge (13-36-01) - Built 1865
Indiana - Multiple bridges built by the Kennedy family
Maine - Hiram York (1828-1897) - Sunday River or Artist Bridge (19-09-04) - Built 1872
Iowa - Harvey Pierce Jones (1825-1908) & George Foster (1831-1886) - Roseman Bridge (15-61-07) - Built 1883
Michigan - Joshua Ackley (1804-1881) - Ackley Bridge (22-82-01) - Built 1832
New Hampshire - Charles Babbitt (1849-1924) - Mount Orne Bridge (29-10-09#2 & 45-14-14#2) - Built 1911
New York - John Davidson (1815-1875) - Van Tran Flat Bridge (32-53-03) - Built 1860
Ohio - Robert W. Smith (1833-1898) - North Pole Road Bridge (35-08-23)
Pennsylvania - David Stoner (1807-1861) - Sachs Bridge (38-01-01) - Built 1854
South Carolina - Charles Irwin Willis (1878-1966) - Campbell Bridge (40-23-02) - Built 1909
Vermont - Sheldon and Savanard Jewett - Hutchins Bridge (45-06-07) - Built 1883
West Virginia - Ray and Oscar Weikel - Indian Creek Bridge (48-32-02) - Built 1898