For 2019, the NSPCB has produced a calendar focusing on the bridge builders with existing examples of their work.
Each month of the 8½" x 11" wall calendar features a current and historic photo of the bridge plus photo of the builder if available. Captions include brief biographical information about the builder. See all 13 photos.
Order yours today! Price reduced to $8 by mail to U.S. and Canadian addresses or $5 at our meetings and events.
Use the "Add to Cart" button below to pay by PayPal or send a check or money order made out to NSPCB to Jennifer Caswell, 535 Second NH Tpke, Hillsboro, NH 03244.
Georgia - Washington W King (1843-1915) - Euharlee Bridge (World Guide #10-08-01) - Built 1886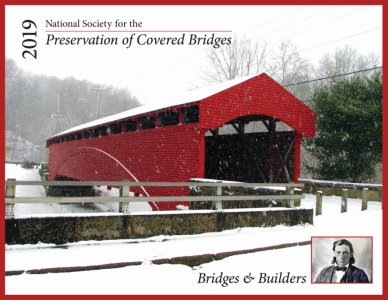 Indiana - Joseph J. Daniels (1826-1916) - Jackson Bridge (14-61-28) - Built 1861
Kentucky - Jacob Bower (1809-1906) - Johnson Creek Bridge (17-101-01) - Built 1882
Maryland - Joseph Johnson (1831-1900) - Gilpin's Falls Bridge (20-07-01) - Built 1860
Michigan - Jared N. Bresee (1831-1918) - Fallasburg Bridge (22-41-02) - Built 1871 or 1862
Missouri - Joseph Lansmon (1812 or 1813-1895) - Burfordville Bridge (25-16-01) - Built 1868
New Hampshire - Dutton Woods (1809-1884) - Waterloo Station Bridge (29-07-04) - Built 1857
New York - John Rosencrans Wood (1802-1869) - Perrine's Bridge (32-56-01) - Built 1844
Ohio - Everett S. Sherman (1837-1897) - Harshman (35-68-03) & Warnke Bridges (35-68-14) - Built 1894 / 1895
Oregon - Charles Otis Hamar (1887-1962) - Chitwood Bridge (37-21-03) - Built 1926
Pennsylvania - Ferdinand Wood (1828-1907) - Bartram's Bridge (38-15-17) - Built 1860
Vermont - Nichols Powers (1817-1897) - Brown Bridge (45-11-09) - Built 1880
West Virginia - Lemuel Chenoweth (1811-1887) - Barrackville Bridge (48-25-02) - Built 1853